Message from the Msgr. Kenneth Schwanger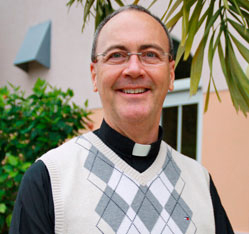 My Dear Family of Our Lady of Lourdes,
As I mentioned in an earlier message, both our Pastoral Council and our Finance Council are saying goodbye to their longest-serving members as well as welcoming their incoming members.
This week I would like to welcome the new members of the Finance Council: Wayne Carter, Marilisa Chin, Alejandro Otero, Jose Viana, and Magda Villa. They are all active members of our parish family who have been generous over the years with the gift of their time, talent, and treasure. They will now join themselves to the work of our Finance Council which includes providing council and assistance to me in development, planning, and stewardship of our financial resources. All this, in order to accomplish the work given to us by Christ in the mission fields of Miami.
I would also like to congratulate and thank our longest-serving members who will now rotate off the Council: Frank Morrison and Robert D'Souza. I have often said that the Finance Council is one of our hardest working Councils and it is because of men and women like them. They well deserve a great round of applause and our deepest appreciation.
Finally, remember that these councils regularly rotate membership so if you interested in serving on with the Pastoral or Finance Councils of the parish in the future just let me know. God bless..
Msgr. Schwanger
Pastor