Message from the Msgr. Kenneth Schwanger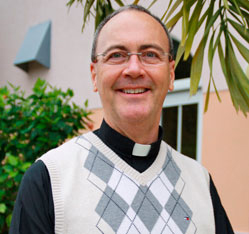 My Dear Family of Our Lady of Lourdes,
As I mentioned last week, our celebrations are as beautiful as they are because they are truly efforts of the whole parish family. This week I would like to highlight our Holy Boutique, which could escape our attention and whose importance to our life in Christ is more than one might think.
The mission of the Holy Boutique is not to sell religious articles to support the budget of the parish. It does sell religious articles and it does add to the finance resources available for the work of the parish but the mission is to support the liturgical and ministerial life of the parish family. It is not by accident that the Holy Boutique always has Bibles, the True Devotion to Mary, the Life of St. Bernadette, the Stations of the Cross and other books in English, Spanish, and French. These publications are used by the whole parish family in our life of prayer and service.
The Holy Boutique changes its inventory to reflect the various seasons of life here at the parish: Advent, Christmas, Lent, Easter, and the Feast of Our Lady of Lourdes. It has the books and support materials needed by those who are preparing for reception of the Sacraments. It has the uniforms and support materials for service in the Sanctuary of Lourdes and the annual Archdiocese of Miami Pilgrimage to Lourdes. In short, what it provides is shaped by our mission.
Not only what it provides also, when it provides it! While the Holy Boutique has regular hours of operation that take our Mass and liturgy schedule into consideration, our volunteers and they are volunteers! were working all day long the Saturday of the Geste de l'Eau because the Geste was open all day long and pilgrims were coming from all over the Archdiocese of Miami. Their work is truly a labor of love, and they make a huge difference we need them.
Of course, I want to congratulate and thank them for all they do. I also want to invite you to join them! Check out the ad for the Holy Boutique in the bulletin and on our webpage, or just drop by the Holy Boutique and let them know that you, too, would like to volunteer. You will find your service fun and rewarding, and you can be sure it makes a difference.
Msgr. Schwanger
Pastor