Message from the Daniel Elie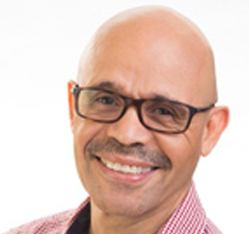 My Dear Family of Our Lady of Lourdes,
My name is Daniel Elie and I have the privilege of serving as the new Youth and Young Adult Ministry Coordinator at Our Lady of Lourdes Parish (OLOL). I have been a parishioner at OLOL since 2003. I have served in many different capacities and have led/coordinated several different ministries over the years. I am excited and humbled to take on this new role.
The five Youth and Young Adult Ministries currently active at our parish will give us the opportunity to reach out and provide the right, age-appropriate formation to our youth. It is our responsibility to build the Body of Christ, and our youth and young adults are part of that body now, not in the future.
I am fortunate to have experienced and dedicated ministry leaders already running each separate age group. With God's grace, I will work with all of them, to form a cohesive, God-centered leadership team that will work together to form our youth and young adults, your children, in their Catholic faith. Together we will implement our pastor's vision; a vision that incorporates forming them in understanding and growing their catholic faith, living the 4 pillars of our parish life, and receiving the blessings from sharing the experience of serving in a Pilgrimage to Lourdes. We plan to create an environment in which our youth will have fun, will feel safe, respected, and valued; an environment they will enjoy coming back to every week to spend time with friends. But be prepared, as we intend to invite you parents, to participate, receive and share some of that formation as well.
Please keep our clergy, office and school staff, our ministry volunteers and all the parishioners at OLOL in your prayers. We are all, in one way or another trying to fill each other's heart with the Hope that comes from knowing that our Catholic Church has something of immeasurable value to offer the world.
Blessing to all,
Daniel Elie
Youth and Young Adult Ministry Coordinator