Message from Most Reverend Thomas G. Wenski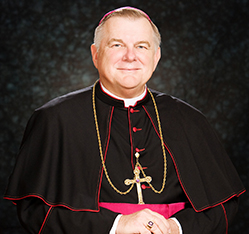 Dear Brothers and Sisters in Christ,
Soon our diocese will take up a collection for the Catholic Communication Campaign (CCC). Please prayerfully consider supporting the collection this year. Half of the collected funds stay right here in the Archdiocese of Miami, and the other half support the collective communication work of the bishops as well as other national projects in the United States and around the world.
Through your generosity in the Communications Collection, the Archdiocese of Miami Communications Department continues to produce English and Spanish Masses for shutins, especially important during these pandemic days. In addition, the social media presence for the Catholic Church has increased tremendously due to the expertise of those in charge; the communications team also teaches parishes how to have a social media presence.
Special parish events are publicized through the ADOM website; reporting of certain ones are covered by the newspaper reporters from the communications office. Video projects for the ministries of the ADOM are on the rise; ordination livestreaming, Catholic schools Apple awards and parish life events have all been highlighted this year, along with the many video messages that come from my office. These accomplishments are possible through the annual Communications Collection, and the generosity of parishioners.
Your support for the CCC helps the Church to modernize how it communicates the joy of the Gospel. Not only does it help spread the faith, but it also helps form young disciples and gives them the practical skills they need to navigate today's digital media environment. Support the collection and build community.
Sincerely yours in Christ,
Most Reverend Thomas G. Wenski
Archbishop of Miami